Carousel in Dartford at Summer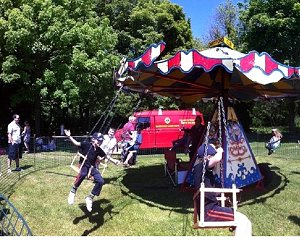 Donated by the Bailey family, the Carousel has been with the club since approx 1970. This amazing fairground ride is staffed during the summer months by our team of volunteers. Since the 1970's, each year we regularly take this ride to school fetes, summer festivals and summer fun days all within the Dartford Borough.
In recent years we have had the art work refreshed on the wooden panels which ensure that it always looks fresh for our visitors, all the various checks including the MOT are carried out on the carousel before it goes out each year. Transporting it is also simple, it flat-packs onto its own trailer, which is then towed by our van.
If you would like to check the availability of our carousel for your event, please feel free to contact Dartford Lions Club – we will try our upmost to attend your event.