Covid19 Making Miracles Support
Sadly the Covid19 pandemic has affected us all in one way or another!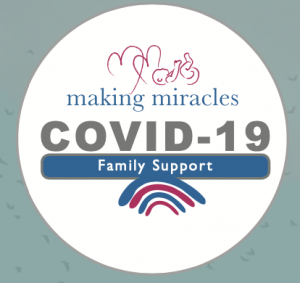 We've all been affected by at least one or more of the following :-
Social distancing
Face coverings
Working from home
Furlough
Reduced working hours
Lifestyle change
Meeting fewer members of the family and friends
And sadly – losing a loved one to Covid19
With no timescale on this pandemic and not 'quick fix' in sight, its obvious that this could be with us for a while!
Here at Dartford Lions Club (CIO), each year we support a whole range of different local o
rganisations who each, in turn, support the community of Dartford.
One of the groups who we support is a group known as Making Miracles. This group has been established since 2014 and usually supports families who experience pregnancy trauma and baby loss and need specialist counselling support and bereavement care.
However, the group have now extended their service to support individuals who have lost family members during the Covid19 pandemic. The group are on hand to offer support to those members of the community who need it, they, like us, are very aware that during this pandemic the grieving process has been very, very different. The group have reached out to us asking us to contact members of the community who would benefit from their support. The organisation is very professional and we are very confident that they will offer the support required by those who need it. Club President Lion
Ragbhir Sandh
u said " Its at times like this (pandemic) when organisations like ours and others make a substantial difference to peoples lives. As always, we are pleased to offer direct or indirect support to better the lives of our Dartford community. Thank you to the Making Miracles Team for reaching out to us and the community."
Making Miracles contacted by clicking the link below, they can be contacted through telephone, and email.