How do I become a member of my Lions Club?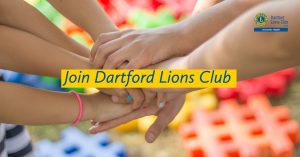 Being part of an organisation such as Lions Clubs International is a perfect platform for anyone who is keen to make a difference to their community.
Millions of people all round the world benefit each year by the work carried out by Lions Clubs throughout the world, the thousands of members (volunteers)  are members of their own local clubs. These clubs have their own members who have their own meetings, events and local causes whom they will support directly.
Although it may seem like its very time consuming – its not!
To join, or seek additional information on Dartford Lions Club, please simply click the following link and send us as email.
Being a lions is something that you will enjoy enormously, its very rewarding when you can see the difference first hand to your local community.
"When I joined Dartford Lions Club, I was aware of the work they did within the community, the difference they were making to the local community everyday was enormous.  From children and adults with disabilities, through to foodbanks and inpatients at hospital – people know who Dartford Lions Club are." Lions President Ragbhir Sandhu (2019-present)