Let your retailers donate to us!
Covid19 has taught us all a great deal when it comes to fundraising. Key aspect for any charity in terms of fundraising are :-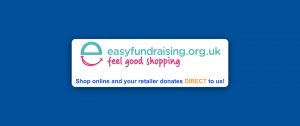 Hosting various events
Coming up with new ideas
Street collections
Sponsorship
Car boot sales
and more…..
Sadly since 2020, the above style of fundraisers have been almost unable to operate. This is where 'Online Fundraising' comes into play. Although we instantly added our donate button onto our website, we looked into a more productive way of fundraising for our charity without effecting the pockets of our supporters.
We found the online platform called 'Easy Fundraising', this amazing platform is supported by a huge number of High Street retailers including some international brands such as Amazon. With department stores, insurance companies, coffee shops, DIY stores, holiday companies and more its clearly a great platform for consumers to use.
Its simple to operate and donate through the following steps:-
Sign up and create an account with easyfundraising.org.uk
Choose the charity of your choice (Dartford Lions Club)
Search for your retailer from whom you'd like to purchase your product
You will now be directed straight onto the retailers website
You go ahead and complete your purchase as you would normally on the retailers website
The retailer then donates a percentage of your purchase direct to Dartford Lions Club
Its that simple, you do not donate to us, the retailer does it out of their pocket
This is seen by us as a brilliant portal through which we aim to make up our shortfall in fundraising over the years. This platform can be shared with your friends and family and each time they make any purchase, their retailer will donate to our charity.
Lions president, Ragbhir Sandhu said "In this modern era of online shopping, its essential for charities of all sizes to raise money in order to sustain their work within the community. Easy Fundraising is easy to use and I'm confident that our members and supporters will make full use of this to help our club."
Dartford Lions Club are only as good as our supporters – for this we thank you! Please feel free to contact us with your support ideas or if you'd like any additional information.