Look out for our collection boxes
Since taking over the role as President of our club, one of the first fundraising implementations by Lion Ragbhir Sandhu, was these collection bottles. Coming from a business background, Lion Ragbhir has a clear vision in mind, which is all about trying the ensure that as many fundraising avenues are explored for the club as possible.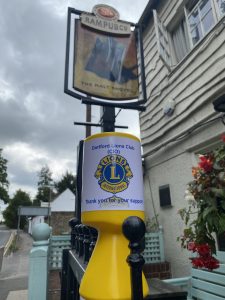 The collection bottles have been distributed to members for them each to be responsible for at the outlets of their choice.
Collection boxes are now available at various retailer and fast food outlets across Dartford, some of these are listed below:-
Memz Barbers- High Street – Dartford
Nisa Local – The Brent – Dartford
Temple Hill Fish Bar – Temple Hill – Dartford
The Ivy Leaf – Darenth Road – Dartford
The Malt Shovel – Darenth Road – Dartford
If you would like to support us by helping our fundraising efforts, please feel free to contact us – Thank you.