Nomination Form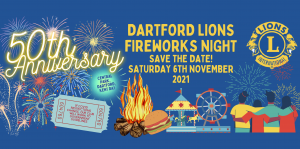 This year on the 6th of Nov 2021 Dartford Lions Club will be organising The Dartford Bonfire Night. After a difficult last year that our world and community had to undergo, Dartford Lions Club (CIO) are working hard to make sure this night truly celebrates human endeavour in our community.
We are going to do this by picking one individual and their family and offering them free entry to the Bonfire night, free fun fare rides and snacks at our Lion's Club stall!
We are asking you to nominate, if you know anyone, who went over and beyond, during the COVID-19 pandemic, whose selfless service had brought some relief.
To nominate please complete this short form and help us choose better:
Please Click Here to complete the nomination form.
Thank you on behalf of the Dartford Lions Club team.