Working with our neighbours
Having good neighbours is a very important part of life, its a common fact that you'll probably meet your neighbours more than other friends/family.
For us here at
Dartford Lions
, its crucial to have great links with our neighbouring clubs, Northfleet & Ebbsfleet and Bexley & Sidcup.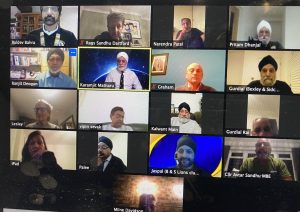 During October, our president, Lion
Ragbhir Sandhu
and other members were pleased to attend the business meetings of both neighbouring clubs. Due to the current Covid19 pandemic, this meeting, like most others was held via zoom. Locally, it is always considered to be wise to see how other clubs are operating, with Cabinet and Zone Meetings not all presidents or members are able to attend, this is also an opportunity to share the knowledge from these other opportunities. During these meetings, our club was also very forthcoming with our clubs modernisation (new website, donate button etc), these points also inform other clubs of what works well etc.
Lion Presidents Sandy (Northfleet) and Baldev (Bexley), were both very grateful for our members joining them. As neighbouring clubs, we all have a great relationship going back many, many years – long may this continue.
Please feel free to
contact us
if you require any additional information on our meetings etc.